ReLEx® SMILE: Laser Refractive Surgery
Atlas Eye Specialist Centre offers all 3 generations of laser refractive surgery including the ReLEx® SMILE, LASIK and PRK. We recognise that no 2 eyes are the same and aim to find a treatment most suited for your eyes.
ReLEx® SMILE melds the qualities of both LASIK and PRK, which include doing away with stripping off the surface of the cornea (as in surface ablation) or creating a flap (as in LASIK). The goal is to offer the best of both worlds.
Patients experience minimal discomfort whilst benefiting from reduction in risk of dry eye. Potential long term benefits include avoiding complication relating to cornea flaps (dislodgement and epithelial in-growth), maintenance of corneal strength and improvements in stability of refractive surgical results.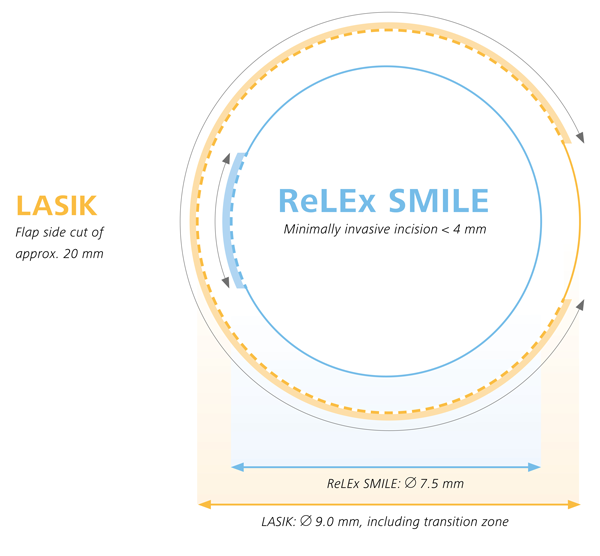 Speed and Comfort of ReLEx® SMILE
During the ReLEx® SMILE procedure, there is no need to pass from one laser to another, unlike LASIK. Therefore, there is no need for the patient to change their position and this is the main reason why the actual lasering for ReLEx® SMILE only takes about 24 seconds regardless of the amount of refractive correction required.
The ReLEx® SMILE  Advantage
Increase corneal and refractive stability (flapless technique with small incision)
Gentle yet rapid treatment (24 seconds laser time)
Less dry eyes (key hole/ small incision of 2–4 mm)
Rapid healing (incision sizes 5 times smaller than LASIK)
Wide treatment range for myopia and astigmatism

Myopia:–0.50 to –10.00D,
Astigmatism: 0 to -5.00D
Who is ReLEx® SMILE most suitable for?
ReLEx® SMILE is suitable for individuals aged 18 and above with myopia and astigmatism. Patients with active lifestyles or who just want to avoid the risk of flap dislodgement in LASIK or the longer period of visual recovery and discomfort of PRK, may consider ReLEx® SMILE as a viable alternative.
ReLEx® SMILE is often chosen for its:
Gentler suction pressure
Short surgical time
Minimal interruption of the eye surface
Advantages in maintaining eye structural strength
Reduced dry eyes issues
Better long term outcomes in terms of refractive stability
The ReLEx® SMILE  procedure
ReLEx® SMILE (often known simply as SMILE, which stands for SMall Incision Lenticule Extraction) is, by its less invasive nature, a method that allows vision correction without the need to create a flap (LASIK) or removal of the top surface of the cornea (Surface Ablation/PRK).
The laser procedure takes about 30 seconds, and functional vision is achieved within the first week with visual improvements continuing for a further 1 to 3 months.