EXTERNAL DISEASES OF THE EYE
Although the cornea is clear and seems to lack substance, it is actually a highly organized group of cells and proteins. Unlike most tissues in the body, the cornea contains no blood vessels to nourish or protect it against infection. Instead, the cornea receives its nourishment from the tears and aqueous humor (a fluid in the anterior portion of the eye) that fills the chamber behind it. The cornea must remain transparent to refract light properly, and the presence of even the tiniest blood vessels can interfere with this process. To see well, all layers of the cornea must be free of any cloudy or opaque areas.
Conjunctivitis (Pink Eye)
This term describes a group of diseases that cause swelling, itching, burning, and redness of the conjunctiva, the protective membrane that lines the eyelids and covers exposed areas of the sclera, or white of the eye. Conjunctivitis can spread from one person to another and affects millions of Americans at any given time. Conjunctivitis can be caused by a bacterial or viral infection, allergy, environmental irritants, a contact lens product, eyedrops, or eye ointments.
At its onset, conjunctivitis is usually painless and does not harm vision. The infection will clear in most cases without requiring medical care. But for some forms of conjunctivitis, treatment will be needed. If treatment is delayed, the infection may worsen and cause corneal inflammation and a loss of vision.
Allergies
Allergies affecting the eye are fairly common. The most common allergies are those related to pollen and air pollution, particularly when the weather is warm and dry. Symptoms can include redness, itching, tearing, burning, stinging, and watery discharge, although they are not usually severe enough to require medical attention. Antihistamine decongestant eyedrops can effectively reduce these symptoms, as does rain and cooler weather, which decreases the amount of pollen in the air.
An increasing number of eye allergy cases are related to medications and contact lens wear. Also, animal hair and certain cosmetics, such as mascara, face creams, and eyebrow pencil, can cause allergies that affect the eye. Touching or rubbing eyes after handling nail polish, soaps, or chemicals may cause an allergic reaction. Some people have sensitivity to lip products and eye makeup. Allergy symptoms are temporary and can be eliminated by not having contact with the offending cosmetic or detergent.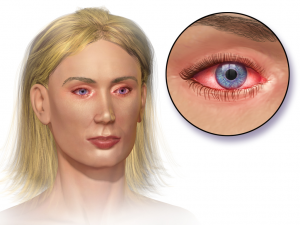 Sometimes the cornea is damaged after a foreign object has entered the tissue, such as from a poke in the eye. At other times, bacteria or fungi from a contaminated contact lens can pass into the cornea. Situations like these can cause painful inflammation and corneal infections called keratitis. These infections can reduce visual clarity, produce corneal discharges, and perhaps erode the cornea. Corneal infections can also lead to corneal scarring, which can impair vision and may require a corneal transplant.
As a general rule, the deeper the corneal infection, the more severe the symptoms and complications. It should be noted that corneal infections are the most serious complication of contact lens wear.
Minor corneal infections are commonly treated with anti-bacterial eye drops. If the problem is severe, it may require more intensive antibiotic or anti-fungal treatment to eliminate the infection, as well as steroid eye drops to reduce inflammation. Frequent visits to an eye care professional may be necessary for several months to eliminate the problem.